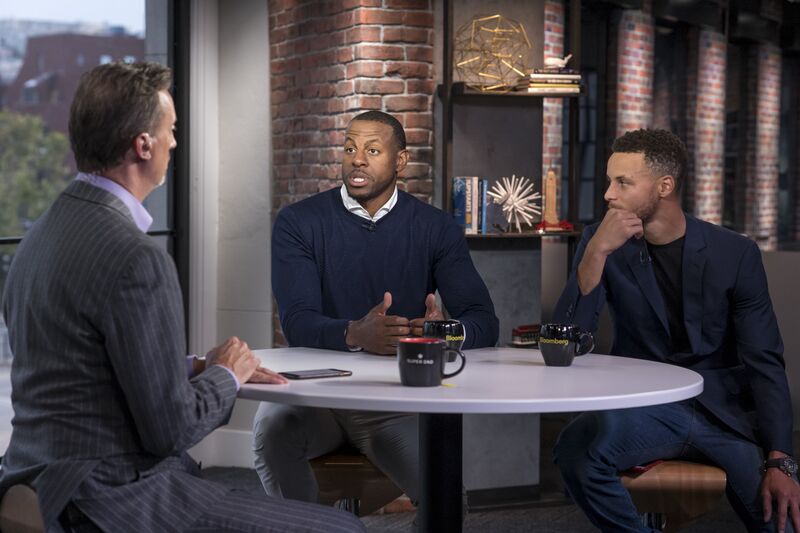 There's no shortage of industry conferences these days devoted to the interlocking arenas of entertainment and technology. But earlier this week, there was one such gathering that was unusual—an event conceived and led by the entertainers themselves.
The first Player's Technology Summit, organized by Golden State Warriors stars Steph Curry and Andre Iguodala, was held on Monday night and Tuesday at Bloomberg Technology's office in San Francisco. Its mission was to empower athletes to do something that both Curry and Iguodala have already started doing: to think early and intelligently about their off-the-court careers. Iguodala has invested in the fitness startup Chorus as well as the sleep-tracking company Hello. Curry is the co-founder of a social media startup called Slyce.
"We're trying to create a nice opportunity and environment where we can bridge the gap between sports and tech, and [utilize] all the resources we have playing right in Silicon Valley's backyard," Curry told my colleague Cory Johnson on Bloomberg TV. "There is more to us than just wearing the jersey."
The two-day event was mostly off-the-record—sorry!—and brought together about two dozen athletes, their advisors and representatives from the worlds of sports, Hollywood and venture capital.
NBA players such as Harrison Barnes, Anthony Tolliver, Ronnie Price and Jaylen Brown attended. So did other sports luminaries like Chinenye Ogwumike of the WNBA and Marques Colston of the NFL. The speaker list included Maverick Carter, CEO of Uninterrupted and SpringHill Entertainment; Patrick Whitesell, co-CEO of talent agency William Morris Endeavor; and venture capitalists Keith Rabois of Khosla Ventures, Kirsten Green of Forerunner Ventures and Phin Barnes of First Round Capital.
Andre Agassi and Joe Montana kicked off the day on Tuesday talking about finding meaning after their playing days ended. "Instead of looking at it as death I encourage you to look at it as life," Agassi said.
Like many such gatherings these days, the mood was periodically influenced by the chaos emanating from Washington. While listening to Kimberly Bryant, founder of Black Girls Code, speak emotionally about talking to her daughter about Donald Trump's presidency, Omar Johnson, a former chief marketing officer of Beats by Dre, committed to donating to her cause and hiring someone from her organization over the next 12 months. And after Tina Sharkey, founder of a new consumer goods company Brandless, spoke about fostering "tangible acts of kindness," Andre Iguodola raised his hand and asked if he could invest.
There was also an overarching message to the event: The days of athletes receiving checks for simply lending their names to products and companies are largely over.
The holy grail for top-tier athletes now is to turn their on-the-court activities into more lucrative off-the-court opportunities in media and technology. Again and again, speakers and athletes admiringly brought up efforts like George Clooney's four year-old tequila startup Casamigos, which Clooney recently sold for $1 billion, and Lebron James' profitable investment in Blaze Pizza and his creation of Springhill Entertainment, a production company now spawning sitcoms and game shows.
Key to that kind of success, everyone agreed, is to express interest and enthusiasm in an endeavor by actually attending meetings, learning about a business and and leveraging their celebrity presence into something they can actually own.
"Be owners. Don't just have a seat at the table," summarized talent manager Troy Carter, CEO of the Atom Factory, in a talk at the end of the summit about his unlikely rise from Philadelphia to the height of Hollywood. "Set the table. Let's be comfortable having our own companies, and be comfortable taking the risk now. What I would say to you all is – be comfortable taking the risk. It's okay to take the risk and it's okay to break the mold."
Sign up to receive the Fully Charged newsletter in your inbox, and follow Bloomberg Technology on Twitter and Facebook for more.
And here's what you need to know in global tech:
Trump vs. Amazon. The president had a lot going on. But he still found time to take aim at Amazon on Wednesday, in a tweet that accused the online retail giant of "doing great damage" to other stores. Amazon shares fell less than 1 percent.
Blast from the past. What's old is new again in Japan, where retro video games are enjoying a comeback.
Another pivot. The CEO of wearables startup Jawbone pitched investors last year on a line of high-grade medical tracking devices.
He's back. After Chinese gaming entrepreneur Chen Tianqiao became a billionaire at age 30, he dropped out of public life. Now he's back, with a very different focus.
Today's show brought to you by Apple. The world's most valuable company is stepping up its programming game, planning to pour about $1 billion into original video content to chase Netflix, Amazon and HBO.